1
« on: September 25, 2016, 03:17:56 PM »
1994 Mazda RX-7 Base
Price: $40,000
Title: Clean West Virginia Title
Location: Biloxi, MS
Mileage: Chassis 106k, Drivetrain <5k
I have decided to sell my beloved RX7. After much debate, I have decided it's time to move on. As many of you know, this car has been a labor of love that began in 2008 when I purchased my dream car. It has transformed from a basically stock car, to two rotary setups, to finally the LS swap it has now. There are many details about the car that I will try to capture as accurately as possible. I don't think there is such a thing as a perfectly swapped FD, but I do feel mine is very very close. At the same token, there are plenty of small things that the new owner can do to make it their own. The swap was performed by me and no expense was spared. I built it to run 10's at the track, win car shows, and go for a Sunday drive with cold A/C; all with complete reliability.

The price I have set is somewhat firm as I am in no rush to sell. The car is worth every penny. Those that know these cars clearly know this is not your standard LS1/T56 pullout car with a 20 year old paint job. I am willing to work with potential buyers with shipping the car if needed. I also have a truck and trailer where personal delivery can possibly be worked out, especially at my asking price.

The parts for the swap are all NEW. The only single part that was "used" is the Cobra 8.8 differential and it was recently rebuilt. I performed every aspect of the swap to the best of my ability. My FD Rx7 is stunning to drive and look at. I can't go anywhere without this car drawing neck breaking attention, popping the hood for strangers, and continued compliments.

Mounting Hardware: All mounting hardware was painted with 500 deg Dupicolor primer and paint.

• Samberg Mount kits – engine cradle, transmission, cobra diff, and radiator kit
• Energy suspension polyurethane transmission mount
• C5 engine mount biscuits

Engine: The engine was built by Dave White at Redline Motorsports in CA. It was then put on an engine dyno at CPR Engines to make 637hp/586ftlbs. The dyno process was directly observed by the builder to ensure everything went smooth. The engine is extremely strong. The cam is an aggressive street cam but setup to keep the valvetrain healthy. I recently had the car tuned at Shexnayder Racing in Baton Rouge, LA. The car made 393whp/416ftlbs. Crazy right! Stock LS3's make better numbers. They use a Mustang load bearing dyno and it's setup to disappoint. Earl the owner actually warned me beforehand. But one drive, and it's very apparent this car is making over 500whp. Nonetheless, the tune is excellent, safe, and the car absolutely rips. As others know, this is a 500whp+ car on a Dynojet. The car is a complete beast.

• LS3 416ci Stroker
o New 6.2L LS3 Block and covers
o Crank – Callies 4340 Forged 4" w/58x reluctor
o Rods – Callies 4340 Forged I Beam with ARP bolts
o Pistons w/ Pins and Rings– 4032 Forged
o Bearings(Main,Rod) – King Extreme Rod and Mains
o Pushrods - 4130 3/8"
o Camshaft w/ Cam Plate– Comp Cams custom grind: 231/247 .617/.624 113
o Lifters – GM LS7 with trays
o Lifter Trays/bolts - GM
o Heads – LS3 CNC Ported by WCCH, Stainless Valves
o BTR Spring kit w/ titanium retainers
o Comp Cam roller rockers
o GM Head Gaskets
o ARP Head studs
o ARP Main Studs
o Oil Pump – Mellings
o Timing Chain Set – Billet Single Roller with Damper
o Balanced rotating assembly
• Ported LS3 intake
• Holley 95mm throttle body
• ATI balancer
• Holley Tall valve covers
• LS3 coils
• New Fbody oil pan, windage tray, pickup tube
• Improved Racing oil pan baffle
• Elite Engineering catch can
• Custom SS steam port lines & Howell surge tank
• FBody accessories ALL NEW
• Halfspec A/C kit using ES12a refrigerant (controlled by Holley ECU with all OEM safety features)
• Samberg Radiator Kit
• Accel ceramic tip plug wires
• TR55 plugs gapped .050

Transmission & Clutch: This setup has been proven at 1200whp. The Magnum is fantastic and the shifter throw is short.

• Tremec T56 Magnum (.296 1st)
• Mcleoud RXT Twin Disc w/ steel flywheel
• American Powertrain White Lightning shifter (adjustable tension)
• New OEM Fbody bell housing
• ARP flywheel bolts
• Wilwood 7/8" Master cylinder
• OEM Fbody Slave cylinder
• SS braided clutch line w/ heat sleeve
• Mobile 1 synthetic (only synthetic Tremec recommends)
• Transmission tunnel lined with Heatshield liner

Differential & Driveshaft: The drivetrain working angles have been dialed in to .5 degrees. It drives smooth up to 110mph without a hint of drivetrain vibration. That's as fast as I have had it.

• Driveshaft Shop Custom drive shaft
• Cobra 8.8 diff w/3.55 gears (39k miles, recently rebuilt)
• Polyurethane ear bushings
• Driveshaft shop axle kit Cobra inner/Mazda outer
• Royal Purple Fluid with Ford friction modifier

ECU & Fuel

• Holley HP EFI w/ver 4 firmware
• Holley LS3 harness
• Holley 3.5" LCD
• LS9 Injectors
• Holley fuel rails w/Holley sensor (fuel pressure logged by ECU)
• Corvette FPR/Filter
• Walbro 485
• Racetronix 2 channel wiring bulkhead (28amp capable)

Exhaust

• Spoolin 1 7/8" premium merge headers / ceramic coated
• Custom dual 3" exhaust
o Magnaflow X-merge center muffler
o 3" Magnaflow bullet mufflers in the rear

Suspension/Steering/Brakes/Wheels & Tires

• Suspension
o Apexi 7-way adjustable shocks, 4-way adjustable perch
o Eibach Prokit springs
o Power Flex polyurethane bushings
o Mazda OEM pillow balls
• Steering
o Manual converted rack
o Polyurethane bushings
o New Moog inner & outer tie rod ends
o Alignment
• Brakes
o Rebuilt OEM calipers
o Hawk HPS pads
o SS brake lines
o Fresh fluid
o ABS removed
o Wilwood proportioning valve
• Wheels
o Work Meister S1 3-piece – 18x9 +43 Front - 18x10 +46 Rear
o Hankook – 265/35/18 Front - 285/30/18 Rear

Exterior: The car was painted by Luis Auto Body in Burlington, NJ and they did a fantastic job. The finish is a mirror in person. The cars paint retains a 10 year warranty and my continued support with any fulfillment if that process is needed.

• OEM Mazda Montego Blue with PPG paint & Clear
o Color Sanded
o Fenders rolled & pulled. The pull is almost a widebody. It could easily take a 315 in the rear.
o Antenna hole shaved
o Lower chip strip sanded smooth
• Feed Type 1 Bumper (authentic)– the only one I have seen on a Rx7 car in North America
• Ganador mirrors
• Ronnin Mazdaspeed Carbon Hood painted to match
• New OEM headlight covers
• New windshield
• Rotary Extreme hood supports
• Quiklatch hood pin system
• 99 Spec tail lights

Interior: The interior I have kept mostly stock. The condition is very good. The base seats are in good condition with only minimal drivers bolster wear. The plastics are all in great condition with no pealing or scratches. All switches and dials work as they should.

• OEM Mazda steering wheel
• Mazda polished door sills
• JDM Gauge cluster with 60k - Speedometer calibrated to read in MPH with Dakota Digital
• All OEM gauges work correctly
• Rear sound deadening
• Stereo – currently using 3.5mm to amp for a basic setup to my phone or iPod. I rarely listen to the stereo in this car.
o Clarion 200w Amp
o Alpine speakers front & rear
• Battery Relocation to Passenger Bin
o Optima Red Top
o 10 channel relay box

Full disclosure:

- I recently swapped to a steel flywheel from an 11lb aluminum. When doing this, I put in a completely new RXT twin disc assembly with the new flywheel. I didn't want to take a chance of mating issues. This gives the car much better driveability overall. However, the flywheel and new RXT have less than 100 miles on them currently. I will continue to break them in but Mcleod recommends 600 miles of city driving or 1200-1500 clutch engagements before considering the clutch "broke in".

- The differential whines. It has been rebuilt including new bearings, spider gear, and seals. It has been driven 3.5hrs each direction to the dyno, driven on the street many miles, went through 3 full days of dyno tuning and street driving. It's solid, it's just not quiet. After much research I have found that some of them are louder than others. This was an unopened 39k Cobra unit that I bought from a good dude, then had it rebuilt. Being an IRS, some noise is to be expected. I am anal, so it's worth mentioning.

- The A/C is cold, just not frosty. This is something that is common with FD's when running R134a. My car is running ES12a which is also known for not doing great in humid areas. After much research I feel the car needs Freeze12 or original R12a to get the desired results. Nonetheless, I can drive the car on a 100 deg day and still remain comfortable and cool in the car. It works, but I am a perfectionist I like my A/C to be frosty.

Final Thoughts

I encourage potential buyers to go through my build thread if you have not already seen it. There are complete pictures and documentation of the process. I will list the link here, as well as DIYAUTO's complete version, who reached out to me. They wanted my build for their site and it actually won build of the month. The DIY thread shows the complete transformation of the car from rotary, to now having the LS3 416. It's also just the raw progress of the car, without the discussions. I can discuss with potential buyers my continued vision for the car and quality options to take it further (traction control, etc). We all know these cars are never really done. After all, that is part of what makes this journey so awesome.

Norotors Build Thread
http://www.norotors.com/index.php?topic=17976.0

DIYAuto
https://www.diyauto.com/manufacturers/mazda/generations/rx-7-2/builds/94-build-gt35r-re-vmount-and-a-whole-lot-more-now-with-pistons-by-xlr8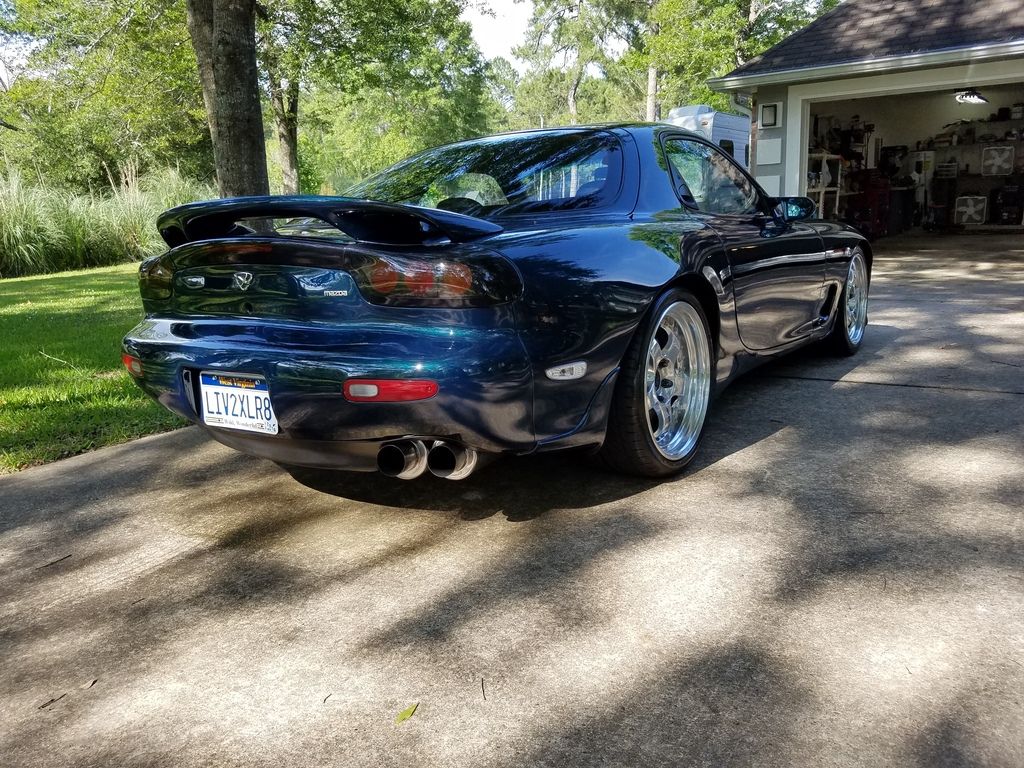 Some older pics from a car show. It still had the front bracket polished and smooth GMPP valve covers.
Engine Dyno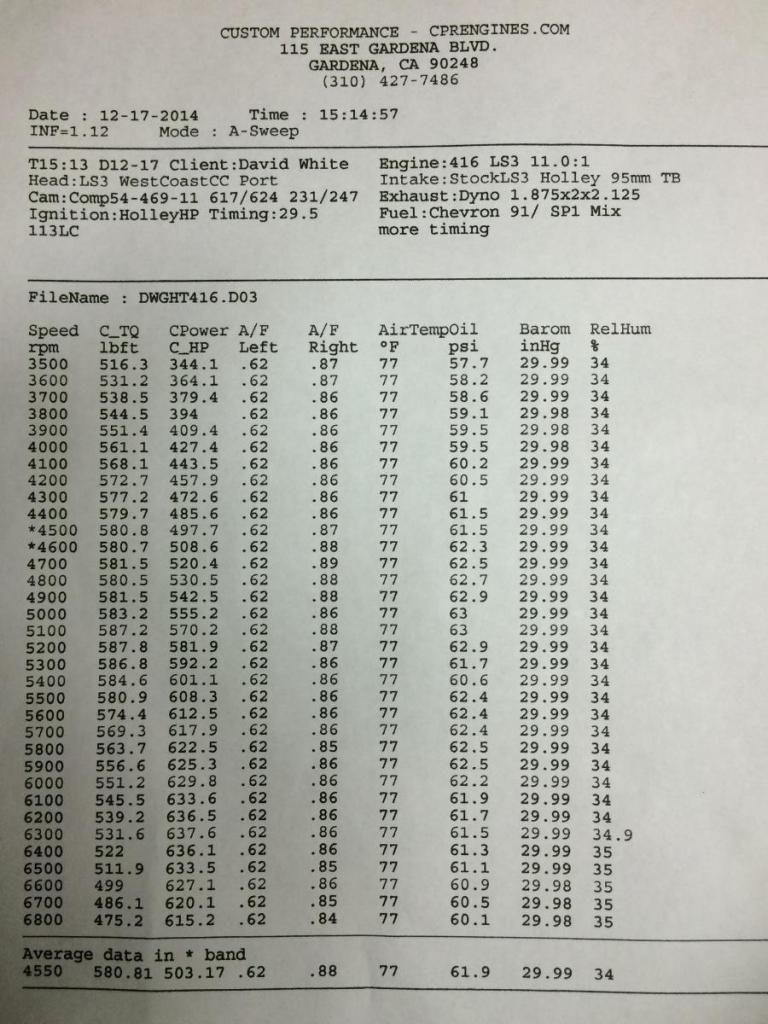 Mustang Chassis Dyno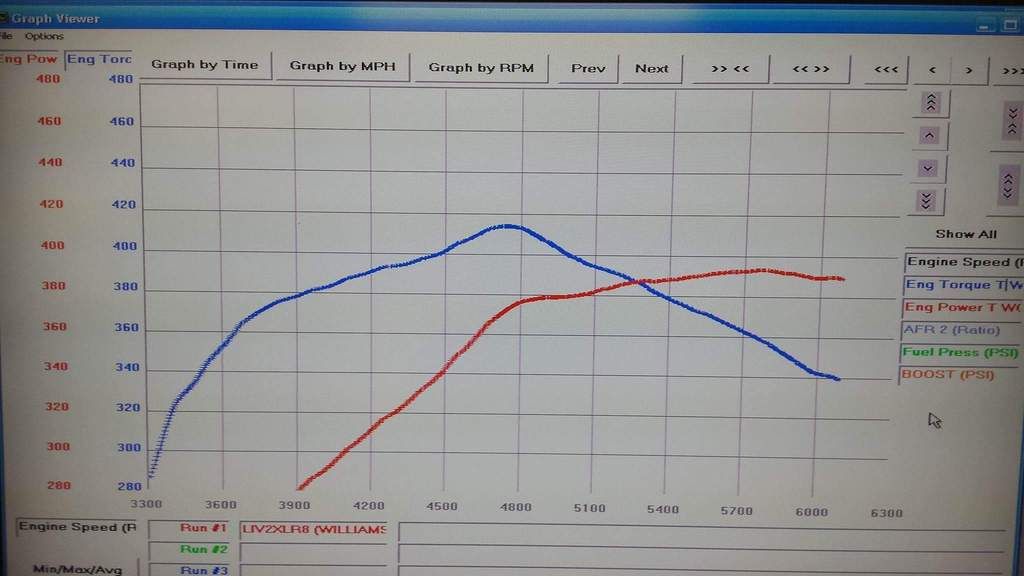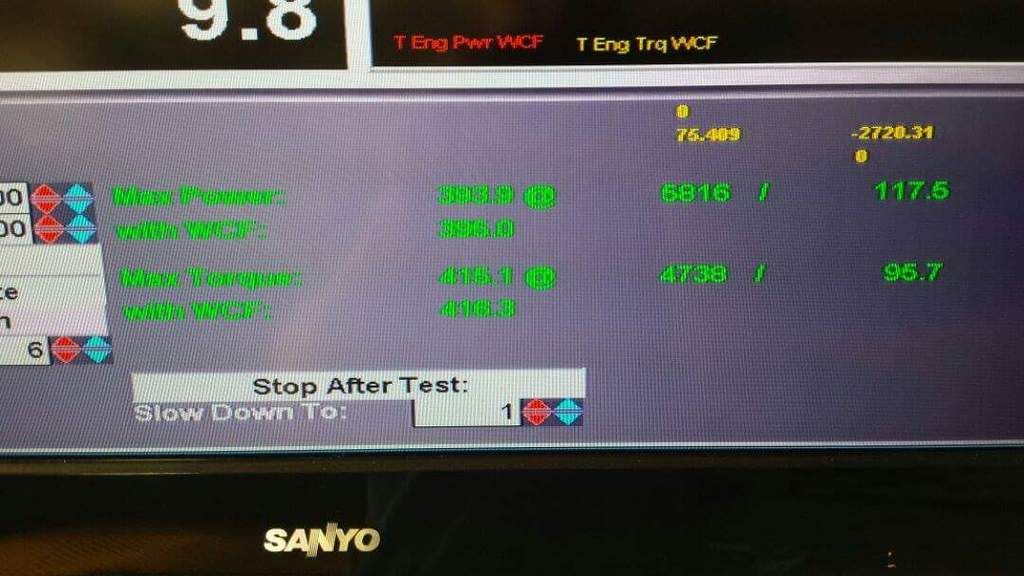 Some basic pulls and driving before the full tune was done. This isn't full WOT or rpm range as it wasn't yet fully tuned. Cold starts, idle, and driveability all excellent now. The car is scary in the upper RPMs. Complete beast.
http://youtu.be/SVAIYhgpohI