September 19, 2020, 11:22:59 PM
Show Posts
This section allows you to view all posts made by this member. Note that you can only see posts made in areas you currently have access to.
Topics - TyConway
Pages: [1]
2
« on: June 01, 2011, 04:32:38 PM »
Hi, I have a flush mount light setup on my rx7 fd, recently had a lens break and flew off my car. I've called several companies that have just the lenses listed for sale but when I call they do not have them in stock. Does anyone have a passenger side lens cover. If you do please email me at Flyinty@aol.com asap.
heres a pic of what the lights and lens cover. its and ebay kit but all of the lens covers are about the same.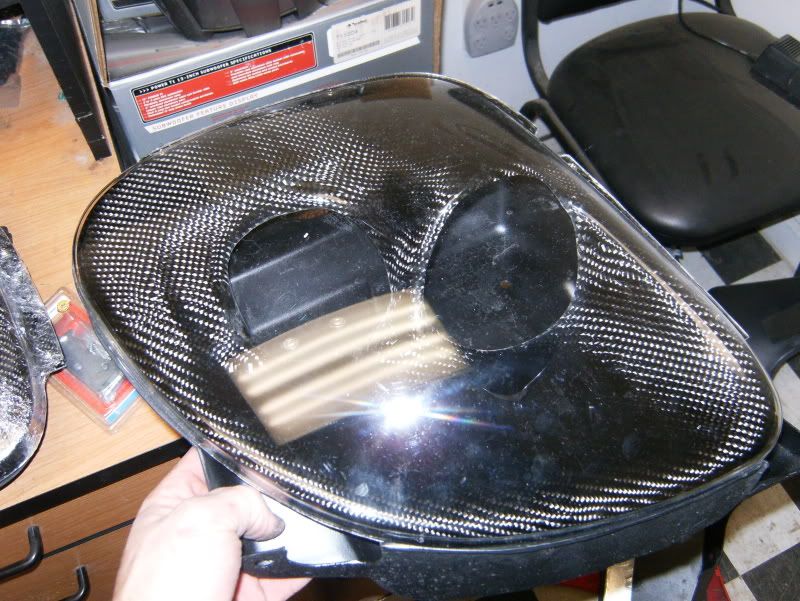 3
« on: May 07, 2011, 04:17:58 PM »
I bought a hinson bump steer kit back in december 2010 for my rx7 build... Just recently I finished up my car, but when I took it to the alignment shop (trailered there). We noticed the Heims that they sent me were the wrong thread pitch, They thread on but are loose and wiggle on the inner tie rod when the jamb nut isn't tight, even threaded all the way on. The inner tie rods are brand new oem's, even tried them on my old ones, same problem. Finally just broke down and bought another kit for my car from a different company, They fit perfect. But the heim joints hinson sales are the wrong thread pitch for the inner tie rods, I believe other people are having this problem with the complaint that the jamb nut doesn't stay tight. I could see the heim very easily pulling off the inner tie rod after some use and wear and tear. But buyers beware before buying them from hinson. When I get a chance I'll go actually find out what thread pitch they are. I emailed hinson last week but i know they had phone lines down due to the storms but also I'm in alabama as well about 60 miles from them. But yet to hear back from them about the issue.
4
« on: March 25, 2011, 12:57:23 AM »
Just ran across this tonight. I'm in the process of finishing the wiring on my Fd witha ls1 4l60e (2001 model) swap. I've already wired in the generator resistor as stated in the harness mod instructions. But I just read that it can cause a transmission problem (auto cars). Any more info on this to clear up if I need the resistor or not?

Heres the post i found on , nopistons forum.
Posted 05 June 2010 - 12:14 AM

"I've had an FD with a LS1 4L60E conversion for a few years now, & I followed instructions from the old V8 RX7 site to add a resistor in the generator circuit as GM used the resistance of a dash light bulb for the Gen circuit. Granny's site says that later LS1's do not need this resistor, so I queried the members about it & I was reassured that indeed I needed that resistor. NOT TRUE !! When the engine was warm the solenoid would only click,when I tried to start it, so I thought I needed a new solenoid. Bought one, installed it & a few days later same thing! So I started monitoring voltage digitally when driving, to my surprise 11.8V !!!! It would only ever get to 12.3 only after engine crank. But what really made me clue into it was last year (car is in storage over winter) the 4L60E packed it in, cost me $2,000 to repair. This year I drove it 2 mths then all of a sudden 3rd & 4th gear would only slip. I pulled the tranny out again & the shop did the warranty work on it but then they found out my running voltage and told me that a step solenoid in the tranny runs on increments of .1V to provide pressure to the clutch packs. Guess why 3rd & 4th blew out!! I took the resistor out today and guess what? 13.4 volts!!!! My LS1 / 4L60E package came out of a 2002 Camaro. So consider this a warning for you guys doing this swap. "


5
« on: November 11, 2010, 11:16:22 PM »
Hey guys, I just bought a complete Delrin kit for my FD, only need the front control arm setup. I am doing a straight axle swap in my car now so i have no need for the bushings that would be used in the rear end setup... They are brand new, haven't even taken them out of the bubble wrap. but also found the car had sum delrins already on the pumpkin mounts when i dropped it out.
But I will Consisder trades for parts or cash offers (i accept paypal)

7
« on: October 25, 2010, 03:35:03 AM »
Jw if theres anyway to determine if my 93 rx7 has a lsd rear end other than pulling the inspection plate...
Haven't got the car to my shop yet to use the lift.
Thanks
8
« on: October 19, 2010, 05:29:44 AM »
Anyone know the yr models of the cobra to look for so i can acquire the 8.8 used for the swap. Not sure what to look for... or what to look for while searching... I know there are 8.8s in alot of different vehicles that are also IRS... could they be used?
Just trying to see what i'm going to spend on my build, want to do everything right the first go around, Thanks for the help in advance.
9
« on: October 17, 2010, 06:39:36 PM »
Hey guys, new to the forum and a new owner of a 93 rx7... My name is Ty Conway, im 25
I've already rounded up my Ls1 swap and still planning the rest. Just got to finish up a rock crawler so I can get it for sale so I can get the Rx7 in the shop! I'll do a build thread here in the new few weeks.


10
« on: October 14, 2010, 11:52:37 PM »
Just got a Fd, both splash shields have huge holes in each side from tire rub... Anyone have some that are in good condition or where I can buy new ones... Just bugs me that i know the first time it rains, my engine bay will be all muddy.
Pages: [1]